Technical Data: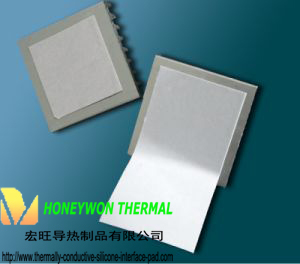 Thermally Conductive Double Adhesive Tape: HWT-150
Thermal conductivity: 1.5W/m-K
Available in thickness 0.005inch(0.127mm), 0.01inch(0.254mm)
Excellent adhesive property
Highly compliant and thermal performance
HWT150 double sided adhesive tape provide an effective heat transfer path between heat components and heat sink or other cooling devices. This tape consists of a high bond strength pressure-sensitive adhesive with an expanded aluminum carrier layer, have excellent thermal performance and bonding properties.
Product Applications:
Memory modules
LED lighting and LED TV
Note book and tablet PC
Heat sink thermal model
Automotive electronics
Handheld electronics
Telecommunication hardware
.
Configurations Available and Options:
Roll form (1000x50M) and custom custom die-cut parts
Product description:
Typical Properties of HWT150

Properties

Imperial Value

Metric Value

Test Method

Reinforcement Carrier

Aluminum

Aluminum

---

Color

Grey

Grey

Visual

Thickness Range (inch/mm)

0.005"~0.01"

0.127~0.254

ASTM D374

Outgassing TML (Post Cured)

<1.0%

<1.0%

ASTM E595

Continuous Use Temp (F)/(C)

-22 ~ 302F

-30 ~150C

Dielectric Breakdown Voltage 50mm probe

50 VAC/mil

50 VAC/mil

ASTM D149

UL Flammability Rating

V0

V0

UL94

Rohs Compliant

Yes

Yes

SGS

Shelf life, year from date of production

1

1

Thermal Conductivity (w/m-k)

1.5

1.5

ASTM D5470

Peeling Adhesion

25C

80C

150C

PSCT-1

1750g/2.5cm

450g/2.5mm

230g/2.5mm

Static Shear Test of Holding

25C

80C

150C

PSCT-7

1100g/2.5cm

1000g/2.5cm

800g/2.5cm