Technical Data: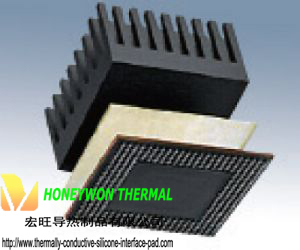 Product Features:
Thermal conductivity: 4.0W/m-K
Available in thickness 0.004inch(0.10mm), 0.08inch(0.2mm).
High thermal performance and excellent adhesive property
Soft and highly compliant
HWT400 is a high thermally conductive adhesive tape designed for heat transfer path between heat components and heat sink or other cooling devices. This tape consists of a high bond strength pressure-sensitive adhesive with copper foil carrier layer, this tape offer excellent adhesive performance and thermal performance with good wetting and electrical .insulation properties.
Product Applications:
LED solid state lighting
LED TV and LED monitor
Computer and peripherals
Automotive electronics
Handheld electronics
Heat sink thermal model
Telecommunication hardware
.
Configurations Available and Options:
Roll form (1250x50M) and custom die-cut parts
Product description:
Typical Properties of HWT400

Properties

Imperial Value

Metric Value

Test Method

Reinforcement Carrier

Copper

Copper

---

Color

Light Yellow

Light Yellow

Visual

Thickness Range (inch/mm)

0.004"~0.008"

0.1~0.2

ASTM D374

Outgassing TML (Post Cured)

<1.0%

<1.0%

ASTM E595

Continuous Use Temp (F)/(C)

-22 ~ 302F

-30 ~150C

Dielectric Breakdown Voltage 50mm probe

40 VAC/mil

40 VAC/mil

ASTM D149

UL Flammability Rating

V0

V0

UL94

Rohs Compliant

Yes

Yes

SGS

Shelf life, year from date of production

1

1

Thermal Conductivity (w/m-k)

4.0

4.0

ASTM D5470

Peeling Adhesion

25C

80C

150C

PSCT-1

1680g/2.5cm

430g/2.5mm

220g/2.5mm

Static Shear Test of Holding

25C

80C

150C

PSCT-7

1100g/2.5cm

1000g/2.5cm

850g/2.5cm