Thermally Conductive Grease Compound,CPU Chip Thermal Conductive Heat transfer Cooling Grease Paste Compound Cooler,Thermal Conductive Silicone Grease Paste, Silicone Interface Cooling Grease Paste, Silicone Interface Pad Mat Sheets Cooler,Heat Transfer silicone Grease Paste,closeup-of-cpu-chip-white-thermal-grease,Thermally Conductive Silicone Interface Grease Paste,thermally conductive silicone gap Grease Paste,Heat Transfer Silicone Sink Grease Paste,Thermally Conductive Grease Compound,Thermal Conductive Silicone Grease Paste HWG500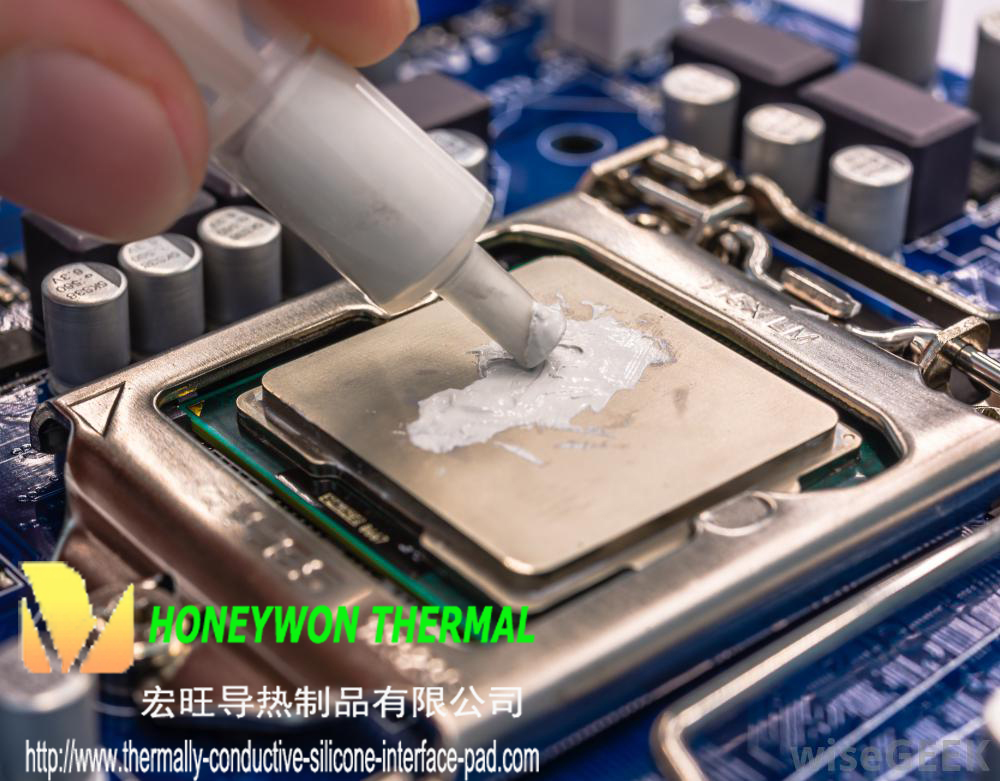 Technical Data:
Product Features:
-High thermal conductivity of 5.0 w/(m·k)
-High conformability and cost effective
-Long reliability; Lowest thermal resistance
-Designed for easy application
-High thermal performance and thoroughly wets out contact surfaces to get low thermal resistance.
-HWG500 is a silicone based material thermal grease for use in high performance CPUs and GPUs,
-HWG500 is screened stenciled or dispensed and require virtually no compressive force to conform under typical assembly pressures. The excellent surface wetting results in low interface thermal resistance. Sliq3500 is available in 0.5kg,1.0kg,2.0kg and 10kg or custom packaged in syringes for automated applications
Product Applications:
It is usually used as the thermal conductive medium in electronic components to reduce the heat resistant of the contact surface, consequently reduce the temperature of the electric component.
HWG300 therml grease compound is a thermally conductive grease compound designed for:
- Between CPU,high performance GPU,IGBT and heatsink
- Telecom device, Military,Motol control Led lighting etc
- Cooling Module, memory module, in all applications where lower thermal resistance is required
- CPUs(Desktops.Notebooks.Servers)
- Graphic chips, DSP chips
- LED lighting
- Flip chip microprocessors
- IGBT module
Product description:
Typical Properties of HWG500

Properties

Units

HWG500

Test Method

Color

---

Gray / pasty

Visual

Density

g/ml

2.85±0.1

ASTM D374

Continuous Use Temp

℃

-60 to 200

EN344

Breakdown Voltage

Kv/mm

5

ASTM D149

Volume Impedance

ohm-cm

1.7*1016

ASTM D257

Dielectric Constant

1KHz

0.4

ASTM D150

Flame Rating

---

V0

UL 94

Thermal Conductivity

W/m.k

4.5

ASTM D5470

Thermal Resistance @50psi

℃-in2/W

0.06

ASTM D5470

UL, RoHS

---

Compliance

---

REACH

---

Pending

---
Standard Container:
1 KG / Container; 2KG / Container; Special spec. available